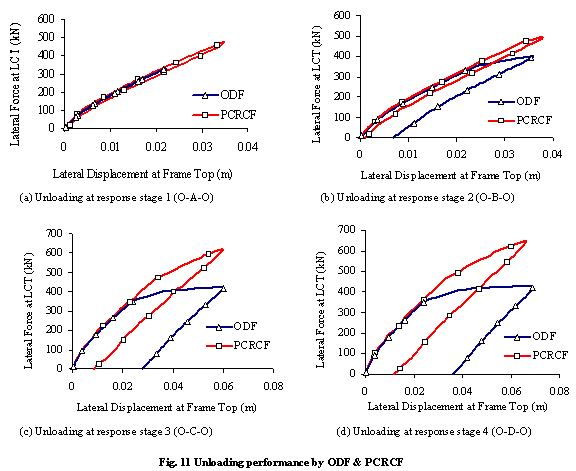 5 Conclusions
In this paper the mechanism of the passive control RC frame with high strength reinforcement and its expected potential benefits against earthquakes has been compared with the ordinary RC frame. For this purpose two single bay single story frames were selected and their response compared. From the above mentioned mechanism demonstration the following conclusions can be drawn.
1. PCRCF can prevent soft story failure mechanism and provide more increased lateral load resistance capacity with less reparable cost by simple replacement of ordinary conventional steel in the frame columns with high tensile strength steel.
2. PCRCF shows signs of distress mainly at the beam end sections which are potentially safe from stability point of view of entire frame as compared with ODF where column base sections are badly yielded.
3. As compared to ODF, PCRCF rehabilitation and strengthening can be done more easily because of easier approach to beam end sections as compared to the more restricted column base sections.
4. PCRCF can reduce the residual displacement in the frames after going through lateral displacement.
5. PCRCF mechanism can reduce the chances of complete demolition as a result of excessive yielding at column base sections.
Besides the above conclusions, it could be understood that the performance of PCRCF can further be improved by providing concrete confinement at the beam ends and column base sections since confinement at the beam ends would increase ultimate deformation capacity at the plastic hinges and at the column base sections with high strength steel would increase the deformation capacity of the whole frame.
Since the demonstration of the PCRCF mechanism has been performed by using the single story single bay frame with only high performance steel in columns. Therefore for multistory frames with dynamic loading the PCRCF response needs to be demonstrated in the future study. It is also envisioned that only mixing some proportion of the high performance steel with the ordinary one may also help in achieving the response benefits. Hence the optimum use of the high performance steel in multistory frame columns also needs to be investigated.
References
[1] Paulay, T., and Priestley, M. J. N. Seismic Design of Reinforced Concrete and Masonry Buildings. John Wiley and Sons, Inc., 1992, pp. 98-106
[2] Priestley, M. J. N., Sritharan, S. S., and Conley, J. R. Preliminary Results and Conclusions from PRESSS Five-Story Precast Concrete Test Building. PCI Journal, 1999, Nov.-Dec., 42-67
[3] El-sheikh, M. T., Sause, R .and Pessiki, S. Seismic Behavior and Design of Unbonded Post Tensioned Pre Cast Concrete Frames. PCI Journal, 1999, May-June, 54-71.
[4] Kurama, Y., Pessiki, S., and Sause, R. Seimic Behavior and Design of Unbonded Post tensioned Precast Concrete Walls. PCI Journal, 1999, May-June., 72-89
[5] Ricles, J. M., Sause, R., and Garlock, M. M. Post Tensioned Seismic Resistant Connections for Steel Frames. ASCE Journal of Structural Engineering, 2001, 127:2, 113-121.
[6] Wael A. Zatar., and Hiroshi Mutsuyoshi. Residual Displacements of Concrete Bridge Piers Subjected to Near Field Earthquakes. ACI Structural Journal, 2002, 99:6, 740-749.
[7] Kwan W.P. and Billington S.L. unbonded post-tensioned bridge piers. I: monotonic and cyclic analyses. ASCE, Journal of Bridge Engineering, 2003, 8:2, 92-101
[8] Naaman, S. E., and Jeong, S. M. Structural Ductility of Concrete Beams Prestressed with FRP Tendons. Proceedings of the Second International RILEM Symposium, Non Metallic Reinforcement for Concrete Structures. Belgium, 1995, 379-386.
[9] Alsayed. S. H., Alhozaimy. A. M. Ductlity of concrete beams reinforced with FRP bars and steel fibers. Journal of composite materials, 1999, 33: 19, 1792-1806.
[10] Harris, H. G., Samboonsong, W., and Ko, F. K. New Ductile FRP Bars for Concrete Structures. ASCE, Journal for Composite Construction. 1998, 2:1, 28-37
[11] Fischer, G. and Victor C. Li. Intrinsic Response Control of Moment Resisting Frames Utilizing Advanced Composite Materials and Structural Elements. ACI Structural Journal, 2003, 100:2, 166-176.