3.3 Slabs modeling
In order to study the influence of slabs on the progressive collapse behavior of RC frames, the numerical models of the frame with and without slabs are compared:
Model A: Frame model with columns and beams only;
Model B: Frame model including columns, beams and slabs. When progressive collapse happens, slabs are usually in large deformation stage, and therefore, the bending bearing capacity of slabs can be ignored comparing with their suspending capacity. So in this paper, the reinforcement in slabs is modeled with truss elements to consider the tensile effect of rebars, and the concrete in slabs is not taken into account. And moreover, when tensile strain of reinforcement reaches 10%, the reinforcement is considered to be broken, and then the procedure will delete it automatically. Thus, the contribution of slabs is conservatively considered by means of this method.
4 Analysis procedure
4.1 Load case
According to the specification in DoD2005 [2], the following factored load combination is applied to the entire structures for nonlinear dynamic analyses:
1.2Gk£«0.5Qk£«0.2Wk (2)
where, Gk =standard value of dead load; Qk =standard value of live load; Wk =standard value of wind load.
4.2 Analysis procedure
Alternate Path (AP) method based on the dynamic nonlinear analysis is used in this paper to analyze the progressive collapse resistance capacity because of its high accuracy. In AP method, one vertical load-bearing element is removed instantaneously from Model A and Model B in every load case to check the bridge over capacity of the residual structures. The columns are near the middle of the short side, near the middle of the long side and at the corner of the building at each floor are removed. Besides, an internal column at ground floor is also removed, as shown in Figure 9.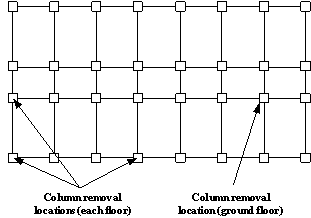 Fig.9 Column removal locations
According to the DoD2005 [2], the beams are considered to be failed (or collapsed) when their deflections reach 10% of their spans or the tensile strain of reinforcement in them exceeds 10%. If collapse area exceeds the value specified in DoD2005 [2], the structure will be considered that its progressive collapse resistance is insufficient and the collapsed part need be strengthened. Both the results of collapse resistance and strengthening reinforcement of Model A and Model B are compared to analysis the effect of slabs in collapse process.
5 Results
5.1 Collapse resistance capacity
The results of simulations for collapse of Model A and Model B are listed in Table 1. It can be indicated that Chinese typical RC frames have insufficient collapse resistance. For the columns in different stories located at the same planar position, the columns in higher stories have more collapse possibility, as shown in Table 1, because the higher floor the removed column
Table 1 the results of simulations for collapse of Model A and Model B
Floor

Column removal location

Model A

Model B

ground

Corner

survive

survive

Long side

survive

survive

Short side

survive

survive

Internal

survive

survive

1 th

Corner

survive

survive

Long side

survive

survive

Short side

survive

survive

2 th

Corner

collapse**

survive **

Long side

survive

survive

Short side

survive

survive

3 th

Corner

collapse

collapse

Long side

survive

survive

Short side

survive

survive

4 th

Corner

collapse

collapse

Long side

collapse **

survive **

Short side

survive

survive

5 th¡«7 th

Corner

collapse

collapse

Long side

collapse

collapse

Short side

survive

survive